I thought since that past few posts were serious I thought I'd do one that was more fun. I was discussing with a friend what celebrities I was were gay, so I can make out with them (not that I'd have a chance). We discussed for a while and then I decided on my top ten.
10. Adam Lavine: The Lead singer of Maroon 5, not necessarily my favorite band but not a band one. I love his tattoos and I love that he's a musician. He is one good looking dude.
9. Tatum Channing: I do not like him as an actor and most of the movies he is in are stupid. However they are worth seeing just because he is so damn beautiful.
8. Craig David: Probably my favorite R&B singer. A lot of people don't know him, he is more popular in the UK where he is from. But if you remember the song "7 Days" from a while back, that was him.
7. Will Arnett: Some maybe surprised he is on the list. However I think some of you know how much I like him. He is super funny and not too bad on the eyes. The good news he at least is part of the best celebrity couple ever to exist.
6. George Clooney: He's old yes, however he is super good looking. I also love almost all the movies he is in. I can't say that he is the most amazing actor ever, however he is good at choosing them.
5. Chris Carrabba: Hello he is super good looking, has great tattoos, and is the lead singer of my favorite band. Obviously he is on my list.
4. Ryan Reynolds: Damn... enough said. But I'm not convinced he is not gay.
3. James Franco: He has that bad ass pretty boy thing that James Dean had.
2. Ryan Gosling: I don't know what it is about Ryan Gosling, but something about him has me attracted to his soul as well. He is one good looking dude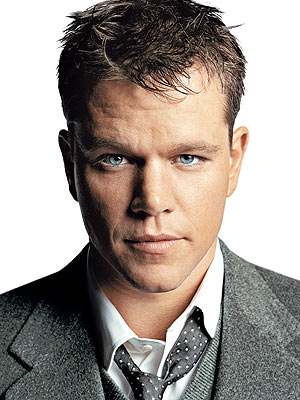 1. Matt Damon: Surprise! I want to make out with Jason Bourne. I think this was the no brainer number one. I think almost every guy wants to be Jason Bourne, I do. However I'd settle with just making out with him.
So that is my list, Anderson Cooper would be on it but he's already gay. I thought he'd be worth mentioning though. I do hold the right to change my mind though. However, I doubt I would change my number one spot... its Jason Bourne.